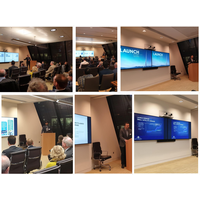 SSPI UK's event, The Satellite Launch Sector: Where Are We Now? was a resounding success, attracting a full house of around 50 delegates. The event took place at Milbank's offices, London last week featuring a Keynote from Michael Callari, Sales Director, EMEA for Blue Origin as well as Tobias Lin, Senior Policy Adviser at the UK Space Agency, and Alan Webb, Director, CST.
The speakers delved deeper into the fascinating world of the launch vehicle sector and the importance of the launch sector for the UK. Just recently, there has been exciting news that the UK is to get its very first vertical launch spaceport in Sutherland, Scotland. This will enable the UK to truly call itself a space player with indigenous satellite-building capabilities, a strong eco-system - and now the ability to launch. With additional horizontal launch sites planned in Cornwall, Glasgow Prestwick and in Snowdonia, all boosted by a £2million development fund, the opportunities ahead are phenomenal. According to the UK government, commercial vertical and horizontal launch demand is worth a potential £3.8 billion to the UK economy over the next decade and will support further growth of Britain's space sector, creating new jobs and a new generation of engineers.
With demand, especially for small satellite launchers growing exponentially, and new mega constellations in the pipeline, this is a challenging and exciting time for the launch sector. There are many new, venture class launchers in development. The speakers addressed a range of subjects, including unmanned and manned flights. Michael Callari gave more details about New Shepherd's latest test flight which carried eight science experiments for NASA, including microgravity tests and tools to study the Earth's magnetic field. This marks another important step forward towards the day when the company will launch paying customers into suborbital space.
The UK Space Agency's presentation addressed the UK ambitions in launch capability and the development of a regulatory framework for satellites to be launched from the UK. The presentation also featured the Agency's LaunchUK programme which has brought together the satellite and space ecosystem. Launch operators are discussing launch operation plans, scientists and satellite manufacturers are exploring new ideas, and CEOs and engineers are talking innovation.
CST also described how the launchers brokerage market is evolving with a growing number of launchers entering the market.
The event attracted a broad spectrum of space industry players that included satellite operators, manufacturers, service organisations, teleports, brokers and space insurers.
"As our first event of 2019, the launchers event was very successful and allowed the community to learn about brokerage, the LaunchUK programme promoted by UK Space Agency and Blue Origin's latest developments" said Irina Petrov, Head of Communications Committee for SSPI UK. "I am always impressed by SSPI UK events and the large space and satellite communities they bring together."
For further information on SSPI UK and to become a member, please visit the SSPI UK website: https://uk.sspi.org/cpages/home
---